Introduction to the Pop Pacific
Introduction to the Pop Pacific
"K-pop. J-pop. What's the difference? Is it just that one is from Korea and the other from Japan?"
As a professor who has taught a class on K-pop and J-pop for over ten years, I get asked such questions all the time. How do I answer? With two stories.
First, in 1995, I encountered K-pop when I was a graduate student spending a week in Korea, on a layover from Hawaii to Japan. While walking down a bustling street with friends, I heard a recording of songs like Kim Gun Mo's "Wrongful Encounter" (Jalmotdoen mannam 잘못된 만남 1995) blaring from a street vendor. It sounded like something you would hear in a nightclub, but with incomprehensible lyrics, since I didn't know any Korean at that time. Tell a Korean friend you like something, and he'll buy it for you, and I ended up with a handful of Korean music tapes.
Later on, I played these for friends and the songs would always elicit their amusement.
"What are you listening to?" they would often ask.
"Korean pop music!" I replied, wondering why people felt amused. Perhaps it wasn't cool to listen to Korean pop music unless you were Korean. Back then, Korea was considered a place to buy cheap souvenirs, like T-shirts, or expensive commodities such as ginseng at a shop in the tourist district of Insadong, if one visited at all.
Fast forward to 2016, over two decades later, and I am a professor teaching Asian history. A young woman in class excitedly explained to me the appeal of BTS, her favorite K-pop group. In her free time, she was studying lyrics to BTS's song "Fire" (2016). When I was in Seoul the following year, I met students who were studying Korean to learn BTS lyrics. I sang in a noraebang (karaoke room) with a German student of Turkish descent. Our song? "Fire."
BTS joined the ranks of international pop stars with their U.S TV debut at the 2017 American Music Awards. Thanks to K-pop, more students are eager to learn about Korean history. Even professors at a BTS academic conference I presented at in 2022 could rattle off BTS trivia with encyclopedic precision– "Suga faced financial hardship and hurt his shoulder as a trainee." The academics also referred to BTS members by their real names - Yoon-gi, not Suga.
What a stunning change! Only five students signed up for my Modern Korea course in the 2000s, and now professors are K-pop fans! Today, students and writers worldwide view Korea as a land of cool, a place they want to visit. I mainly listen to K-pop while driving to work and started thinking that, maybe, I could write something about my experiences.
While the K-pop phenomenon has exploded globally and its acts have become household names worldwide, Japanese popular music, or J-pop, languishes in obscurity outside Japan. The Japanese idol group Arashi made its U.S debut in Honolulu, Hawai'i in 2014, to celebrate their 15th anniversary. Their stage was the largest ever erected in Hawai'i, about 63 feet (19.2 m) tall, 280 feet (85.3 m) wide, and 64 feet (19.5 m) deep. Japanese fans had to pay for a fan club membership and then win a ticket lottery. Winners flew to Hawaii on tour packages ranging from 270,000 to 550,000 yen (equivalent to $2,600 to $5,400). 15,000 Japanese came for Arashi, some on 18 charter flights, pouring $20 million into the local economy. A total of 167 buses – every remaining bus on the island – shuttled concert attendees back-and-forth between Honolulu and the Ko Olina resort. An estimated 100,000 to 160,000 people purchased theater tickets to watch the concert back in Japan. Fortunately, Hawaii residents like me easily purchased tickets online.
Why all the commotion? As Japan's most popular boy band (although its members were in their thirties in 2014), Arashi dominated Japan's Oricon song ranking charts until their hiatus in 2021. This was no small feat, given that the Japanese music market is the world's second largest, making up 20% of the world's music sales, slightly edged by only the U.S. In terms of money, Arashi was the top artist in Japan in total sales revenue for 2013, making about $138 million dollars, not including revenue from commercials or endorsements. At that time, these sales figures were nearly 65% the size of the entire South Korean music market.[1]
Yet, puzzled Hawai'i audiences knew little about Arashi. The local media had to explain who they were, and their popularity. When I stood among the thousands of fans, I was among the handful of non-Japanese in attendance. Two non-Japanese spectators, a mother and her son-in-law whose wife was home taking care of the kids, stood next to me. They received free tickets as an apology to hotel guests for the noise of the concert and asked me who Arashi was, and what all the fuss was about. It was difficult to explain. I told them Arashi seemed to appear daily on Japanese TV dramas, music shows, and commercials. While I was speaking, a helicopter carrying Arashi emerged from the sky, like gods descending from the heavens, and the arena erupted in pandemonium. They landed backstage and when they appeared on the front stage, some fans cried, others screamed. The people I was talking to were still bewildered.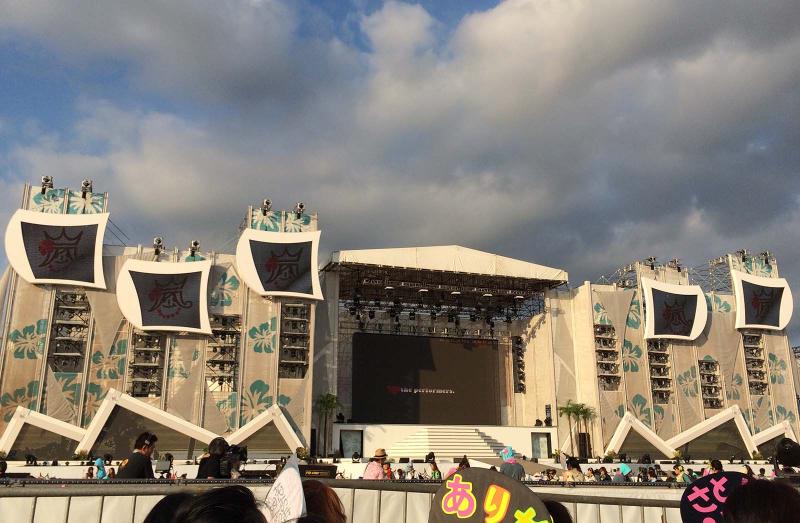 Personal photo by the author (before the concert started).
This sums up J-pop, a genre relatively unknown outside Japan but comprising much of the world's second largest music market. In contrast, K-pop from Korea, a relatively small nation of 50 million, has attained worldwide popularity. Matsumoto Jun of Arashi caused a firestorm among Korean fans by suggesting that BTS' success came from the model developed first in Japan (by the Japanese American Johnny Kitagawa, head of Arashi's entertainment agency). One of the reasons for this firestorm was Japan's brutal rule over Korea from 1910 – 1945, which understandably makes many Koreans loathe to acknowledge Japanese influence. While Koreans made major innovations on this model, Matsumoto had a point: K-pop and J-pop must be understood in historical relation to each other. Japanese pop music heavily influenced K-pop. Performances by K-pop BTS, or BLACKPINK include recognizable idioms – dancing idol groups and energetic fan chants accompanying stage performances. Just as Japanese popular music influenced Korean popular music, Korean music highly influenced Japanese popular music. Koga Masao, one of the godfathers of prewar Japanese music, was inspired by the songs of the Korean workers he heard in colonized Korea. Fast forward to 2023: Korean-trained Japanese idol groups such as NIZIU appear regularly on Japanese TV.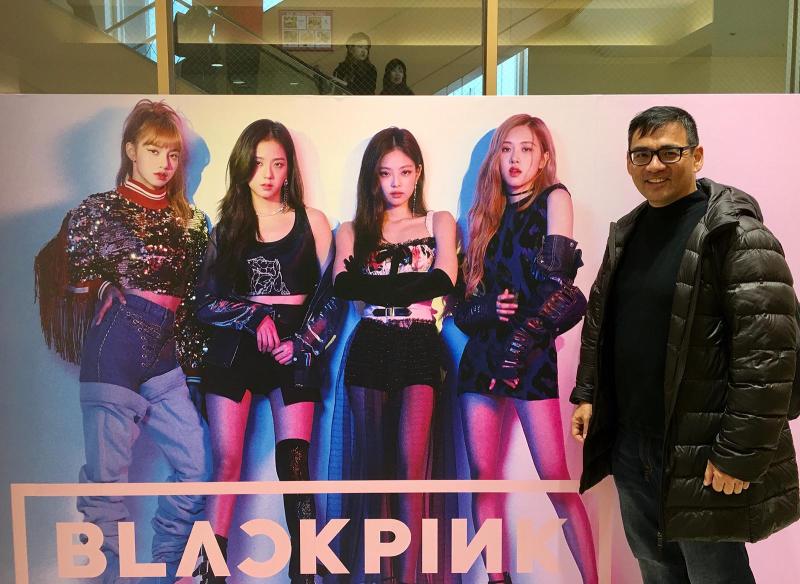 These blog posts focus on the "Pop Pacific," a space of creation of transnational music like K-pop and J-pop." The ancient Polynesians looked at the Pacific as a path connecting people rather than as a barrier separating them. The same can be said about Korean, Japanese, and American music originating from transpacific contact zones such as Japantowns and Koreatowns in the U.S, cosmopolitan cities in East Asia, or American military bases.
Both BTS and Arashi went on hiatus by 2023. BTS members did so for compulsory military service and to focus on solo albums, and Arashi, to pursue individual projects.
I still listen to K-pop in my car
---
[1] "The "Pop Pacific": Japanese American Sojourners and the Development of Japanese Popular Music," in Introducing Japanese Popular Culture eds Alicia Freedman and Toby Slate, first edition Routledge, 2017.