In the 1932 Chinese silent film classic Wild Rose by director Sun Yu, a seventeen-year-old singer and dancer and friend of Mao Zedong made her debut as a leading actress. Eventually, as lead singer for Asia's first "girl group" - the Bright Moon Song and Dance Troupe, and as a movie star, she became a pop idol, so well-known that after retiring, she felt the need to go incognito when she left her house. Her fame was such, in the capitalist world of pop stardom, that despite her friendship with Mao, the Chinese Communist Party refused to accept her application for membership until 1979. She reached that level of stardom in part because of the power of Shanghai as a contact zone.
The story is both romantic and sad. Wang Renmei in the 1932 film played a young Cinderella figure named Xiao Feng whose well-meaning but debt-ridden father, unwilling to sell her to clear his debts, accidentally kills a man. Left on her own, she goes to Shanghai with a wealthy artist boyfriend, but thanks to her low-class status, they are ejected from his home. Happy and in love, they face hard times together until he gets arrested over a stolen wallet. Her promise to his well-connected father to never contact him again if the father gets his son out of jail separates them for months. Eventually, as Japan invades China, the boyfriend leaves home to join up, and finds her in the crowd. They go off to fight Japan together, to fulfill Xiao Feng's statement earlier in the movie that "China is your mother. To love China is to love your mother."
Wild Rose is a "hard" political drama driven by political themes that at times seem too much on the surface, but Wang Renmei's sincere acting and Sun Yu's slick cinematography make the film a late silent classic. Wang Renmei, at seventeen, was already on her way to stardom, and her best characters were all socially conscious, patriotic young women whose poverty seemed to represent ordinary Chinese. In fact, she appears to have preferred it so. No surprise to learn that she was a childhood friend of Mao Zedong and her concern, displayed later in Song of the Fishermen, with the poverty of China's working class came from the same wellspring of ideology and personal experience. Wang was born in Changsha, Hunan Province, in 1914. She was the youngest child of Mao Zedong's math teacher at the local academy and used to walk to school with Mao nearly every day.  Mao even lived with her family for a time. Her family was neither poor nor members of the upper class. In those days, her father demanded that she and her siblings learn Confucianism, and Western philosophy, and develop a social conscience. They were required to discuss Confucianism and politics over dinner. Renmei was apparently quite good at arguing, but she was a lackluster student in a formal sense. Most of her family eventually joined the Communist Party, and Wang herself maintained sympathy for the working class from early in her youth when she was still known as Xixi.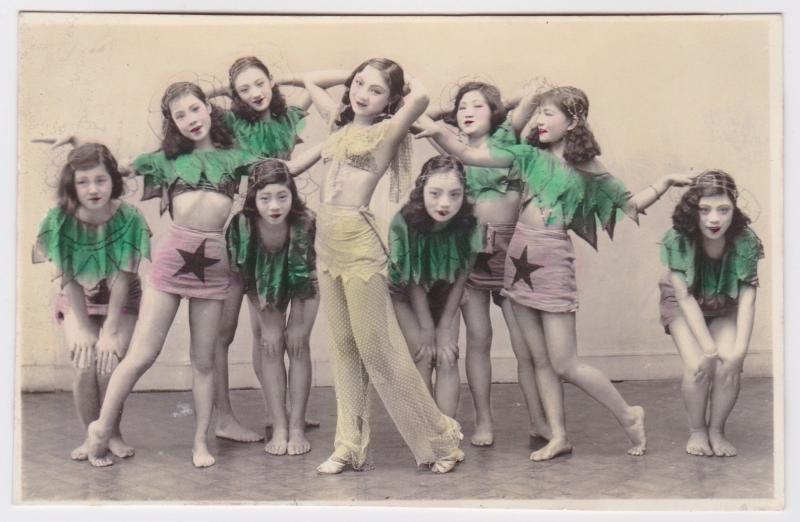 Public domain. Origin unknown.
That, however, did not save her from the disapprobation of the Chinese Communist Party. She sang songs by Li Jinhui, the maker of modern Chinese popular music. Like so many popular songwriters, Li was interested in love and passion. The reason the singer might want to stay alive - to be with her or his beloved - is the focus of his songs. The words to his songs are not lascivious in the least. But in the serious world of Communist ideology and party politics, they were considered frivolous, and China's Communists, even Li's own protege Nie Erh, labeled them "Yellow Music" - a term reserved for pornographic songs. Renmei was painted with the same brush. The irony, that in traditional China performers were often associated with the world of prostitution, and that the Communist Party often did the same while on its mission to modernize China, is deep.
In the 1920s Renmei found her way to an entertainment academy in Shanghai run by composer and impresario Li Jinhui, who formed the Bright Moon Song and Dance Troupe (Mingyue gewtuan). Sources disagree about whether their first tour in 1927 (when Renmei was twelve years old), to promote Chinese music and language in Southeast Asia, was as Li's performance school, or as the commercial group Bright Moon Troupe. In fact, the school eventually fell into financial trouble, and Li closed it but continued with the Bright Moon troupe. The Southeast Asia tours were part of Li's attempt to shore up international interest and support for China as Japanese and Western colonial states grew in power. In this sense, we might say that Li was somewhat of an entertainment nationalist. Wang was one of his leading members, eventually becoming known as the lead singer and her brother worked as a stagehand. In 1931, when Renmei was still only 16, she along with the rest of the group, appeared in several short films and one feature as singers and dancers. Then in 1932 she gained some fame as Xiao Feng in Wild Rose.
In 1933 saw she achieve immortality as the "Little Cat" in another thinly disguised anti-Japanese film, this one with sound, called Song of the Fishermen. Audiences throughout Asia were so touched by her performance both in the song and in the film that they mashed her two roles together for a new nickname: the "Wild Rose of Shanghai" became the "Wildcat of Shanghai." She was internationally famous.