Patti Kim: US Bases, Korea and popular music in the 1950s
Patti Kim: US Bases, Korea and popular music in the 1950s
Kim Hye Ja, known onstage as Patti Kim, knew she was representing her nation in 1960 as the first Korean to perform on Japanese TV since Korea's liberation from Japanese rule in 1945.  Conscious of the troubled history between the two nations, she strove to outshine the Japanese during what she considered her most difficult moment as a singer.
As she told the Digital Chosun in 2008, "I tried to maintain my dignity as a Korean. I was already very tall, but I went out in high-heeled shoes and put up my hair to try to look much bigger and taller than the Japanese."[1] Her performance marked the international phase of a distinguished career, which included stops in the U.S,  Japan, and SE Asia.  Like many other Korean singers, Kim debuted at a US military base, showing how bases in the 1950s served as valuable training grounds for musicians.
Kim's music represented a break with Japanese-style songs known as "trot," a pop music developed during Japanese occupation. The United States Army Military Government in Korea (1945 - 48) relied on Korean elites like landowners, wealthy businessmen, and former colonial officials. Thus, elements of the Japanese empire continued in Korea but this time American masters working with colonial-era collaborators and elites. Similarly, music in the years immediately following liberation reflected this continuation of Japanese patterns. Many popular songs after liberation were colonial era trot songs that merely changed song locations to Korean locations.[2] For example, "Returning Ship" (kuiguk seon, 1946) was about Koreans coming back to the motherland after liberation. The song contained Korean lyrics, but the melody came from a Japanese song. Also, Nam In-su's "Joyful Time" (kamgyeok sidae) was based on a 1939 colonial song promoting migration to Manchuria, with the post-liberation version changing the locations in the song to Korea.[3]
The US 8th Army bases where artists like Kim performed were the consequences of the Korean War and spread American influences throughout Korea. With Korean anti-communists securely in power, the US ended military rule, and the first South Korean government took power in 1948, led by Syngman Rhee, an elderly Korean who lived most of his life in exile in Hawaii. The Korean War ended with a ceasefire in 1953. Tens of thousands of U.S. troops remained in a devastated South Korea and American bases became contact zones, filling in the cultural power vacuum left by the Japanese. AFKN (American Forces Korea Network) radio began broadcasting in 1950 to provide entertainment for US troops. Korean youth could listen to these broadcasts, and learn the latest American songs.[4] In Korea, the presence of over 150 US bases and camps generated a demand for Korean musicians to play at the club. Singers needed to learn a new style of singing, one associated with the US, the wealthy protector of Korea and object of desire. Roald Maliangkay notes that the auditions to land a gig at the base were comparable to pop music talent shows popular in Korea today. Singers auditioned and were ranked from AA to A, B, C, to D, with higher rankings getting better pay and renown.[5]
Patti Kim recounted how she ended up applying for, auditioning and performing on bases:
"It was the spring or early summer of 1958, when I was walking around Myeongdong looking for a job and eagerly looking at the job postings posted in the shop windows. Then my brother's friend who I met by chance said, 'You sing well, would you like to try it?' Those words changed my life….I auditioned with my brother's friend and was put into a USFK (United States Forces Korea) show."[6]
For Kim, US base performances trained her to sing in an American style, as opposed to the trot style still popular in the 1950s. She first performed in 1958, and debuted as a solo singer at a US 8th Army base in 1959. She also took the name "Patti" after the American singer Patti Page. Kim said, "I decided to take an English name, because nobody would remember me if I introduced myself as Kim Hye-ja".[7] Her American sound later made her popular in Korea as seen in her debut hit "Pledge of Love" (Sarang ui maengse," 1963), a Korean cover of Percy Faith's 1957 song"Till" (which was a cover of French "Prière Sans Espoir"). She shook the music industry with her stage presence, singing ability and fashion sense.[8] She churned out hits with her husband and composer Gil Ok-yoon, making her one of Korea's first post-liberation divas.
The bases and the American music marked a turning point in Korean music. Trot, which represented a modern sound in the 1930s, now seemed old-fashioned. According to Jeong Ha-sang, "the reason why our trot music has changed to a rustic image is because these American pop songs came in. Trot became the first sacrificial hit in music because it was thought to be anything but American…In the Japanese era, this trot was compared to folk songs and considered very modern music, but in the 1960s, it became rustic music."[9]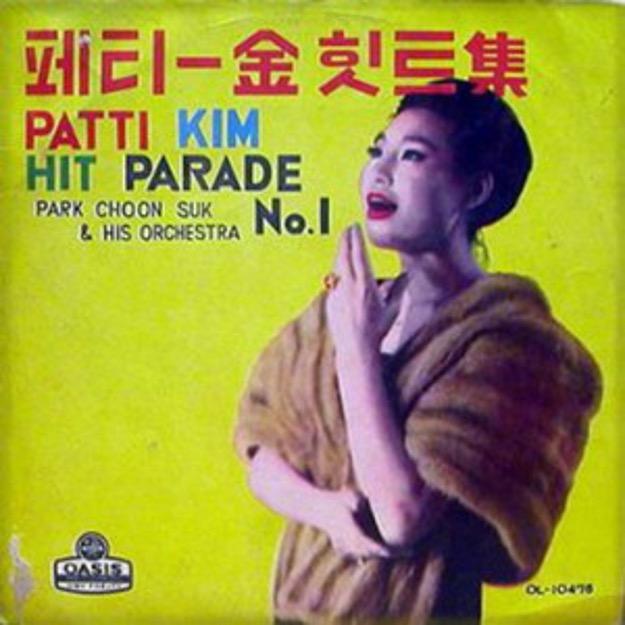 Kim's charisma, vocal skills, and western sound contributed to her popularity overseas. She performed in Japan in 1960 as the first Korean singer invited by the Japanese government in the 15 years since liberation.[10] Just three years later she sang on the Johnny Carson Show in the U.S. and performed in Las Vegas.[11] In 1989, Kim sang at the Kohaku Uta Gassen Japanese televised New Years special. That same year, she was the first Korean singer to perform at Carnegie Hall in New York.  Kim retired in 2012, with a long career spanning half a century with performances worldwide. One of Korea's first post-liberation international pop stars cut her teeth performing for the US bases.
In the April Revolution (1960), university and high school students took to the streets in protest of rigged elections and government brutality, leading to Rhee's exile to Hawaii. The new government, although democratic in nature, failed to deal with rising inflation and unemployment. Major-General Park Chung Hee, a former lieutenant in the Japanese army, led a military coup in 1961. His government's focus on economic development combined with government repression ironically led to the spread of an rebellious American style popular music to a growing middle class as we shall see in future posts.
---
[1] Do Je-hae, "Pop diva Patti Kim publishes biography," Korea Times. April 20, 2012. http://www.koreatimes.co.kr/www/culture/2019/02/142_109387.html
[2] Yongwoo Lee, "Embedded Voices In Between Empires: The Cultural Formation of Korean Popular Music in Modern Times," Ph.D dissertation, McGill University, May 2010. 160 -170. Lee notes that Japanese style popular songs were still popular among the people and musicians in 1946.
[3] Seung-Ah Lee, "Decolonizing Korean Popular Music: The "Japanese Color" Dispute over Trot,"   Popular Music and Society, Vol. 40, no. 1, (2017), p. 102.
[4] Roald Maliangkay, "Koreans performing for foreign troops: The Occidentalism of the C.M.C. and K.P.K." East Asian History 37 (2011) p. 66.
[5] Roald Maliangkay, "Koreans Got Talent: Auditioning for U.S. Army Gigs in Korea," Situations 11.1 (2018): 59 – 79.
[6] Nam Jieun, ""Every single donut"… 'Immortal Effort' 84-year-old diva Patty Kim returns, (도너츠 하나도 다…'불후의 노력' 84살 디바 패티김의 귀환, doneocheu hanado da"…'bulhuui nolyeog' 84sal diba paetigim ui gwihwan)" Hankyoreh, Nov 17, 2022. https://www.hani.co.kr/arti/culture/culture_general/1067632.html
[7] Park Jeong-ho  "At 69, Patti Kim sings the song of her life," Korea JoongAng Daily. March 5, 2007. https://koreajoongangdaily.joins.com/2007/03/05/features/At-69-Patti-Ki…
[8] Do Je-hae (2012). http://www.koreatimes.co.kr/www/culture/2019/02/142_109387.html
[9] Choi Junsik, Looking Back On Our Pop Music at About Sixty (예순 즈음에 되돌아보는 우리 대중음악 yesun jeueum e doedolaboneun uri daejung eumak), Hanul, Seoul Korea, 2016.
[10] "Pop Legend Patti Kim," KBS World, April 09, 2008. https://world.kbs.co.kr/service/contents_view.htm?lang=e&menu_cate=peop…
[11] "Patti Kim Marks 50th Anniversary of Singing Career," The Chosun Ilbo, March 25, 2008. http://english.chosun.com/site/data/html_dir/2008/03/25/2008032561012.html