'Reading makes me free': How I became an author after winning an award
'Reading makes me free': How I became an author after winning an award
The following narrative was constructed by Ratih Kabinawa, based on an interview that she conducted with Erin Cipta, a former migrant worker who received the Taiwan Literature Award for Migrants in 2014 and 2015 and now is an author of several fiction books.
I went to Taiwan in 2012 to work as a migrant domestic worker. Prior to that, I had a business together with my husband. However, due to unfortunate circumstances, our business went bankrupt and we lost several valuable assets, including our house, rice fields, and vehicles. With my husband still completing his undergraduate studies, I had no other choice but to find work abroad to support my family and recover our lost assets. In addition, we have two children who were still in school. So, I decided to work in Taiwan, believing it to be the fastest way to earn money and get us back on our feet.
I chose Taiwan because, at that time, the recruitment agency informed me that I would not have to pay any fees upfront, but my salary would be docked for nine months to cover the recruitment costs incurred by the agency. On the other hand, if I chose to go to Hong Kong, I would have to pay initial fees of IDR 1,000,000 (USD $68). I was not sure what this fee was for or why there was a fee to go to Hong Kong. Since I was looking for a job without any initial charge, I chose Taiwan.
Similar to other migrant workers, individuals who plan to work in Taiwan must complete training prior to their departure. Despite spending around six months at the training centre in Cilacap, Central Java, I struggled to make significant progress in my Chinese language skills. However, I was able to communicate in English and fortunately found an employer who was also fluent in English and agreed to hire me. Before starting a business with my husband, I had already learned English during my school years and previously worked as an on-call tour guide for foreign visitors. Once all the necessary documents were finalised, I was able to leave for Taiwan.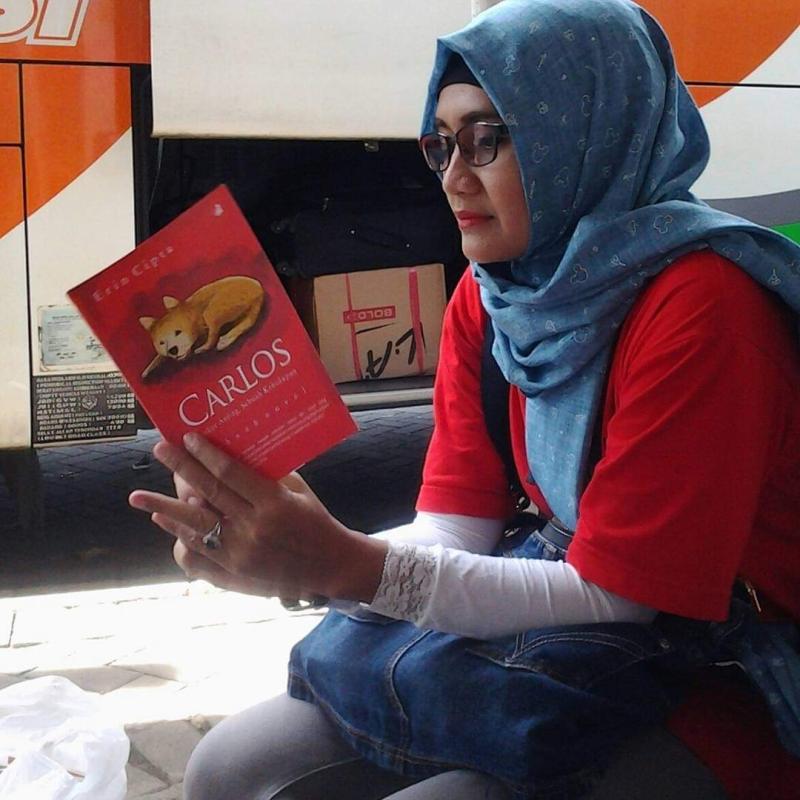 In Taiwan, I lived and worked in the Wenshan area of Taipei and look after the elderly. During my employment, I did not take any days off and focused on work so I could earn and save more money for my family. Occasionally, my employer would take me out to visit places like the Taipei Zoo, Taipei 101, or night markets. Working continuously every day certainly had an impact on my mental health. I often felt anxiety, maybe because I rarely went out or missed my family, especially my kids. My employer was concerned about my mental health, and eventually took me to see a psychologist. I was then advised to engage in activities that I enjoyed. This mental health problem happened after working for one and a half years.
To cope with the issue, I requested my employer to purchase a new phone which would enable me to stay connected with friends through social media platforms like Facebook or LINE. They granted permission on the condition that I didn't use it during working hours. My employer was a kind family who encouraged me to read more books instead of spending time on Facebook. They had an impressive collection of books and magazines in English, which I found very liberating.
Once I had the new phone, I began to use Facebook and even joined an Indonesian writing community called Forum Lingkar Pena (FLP) Taiwan. This community frequently organised writing practices for Indonesian migrant workers. My experience with bullying in Indonesia led me to develop an interest in writing as a means of healing. My former colleagues used to make fun of my strong accent, which caused me to lose confidence in speaking. Writing became an outlet for me to express myself without needing to speak, and it gradually evolved into a beloved hobby. I once won first place in a short story writing competition in Indonesia.
My writings eventually caught the attention of Indosuara, an Indonesian media outlet in Taiwan, and I became a regular contributor. During the day, while taking care of my employer, I would read books and magazines that my employer bought for me. At night, once my employer had gone to sleep, I would write. Reading and writing quickly became a daily routine, and I found immense enjoyment in these activities. For me, it felt like a form of therapy, offering a sense of peace and solace to my mind.
In 2014, the Taiwan Literature Award for Migrants (TLAM) invited migrant workers to compete in a writing competition, and the FLP members jumped at the chance to participate. Like many others in the FLP, I was excited to submit my short stories. With a cash prize and certificate on offer for the winners, the competition was undoubtedly a tempting prospect for many migrant workers.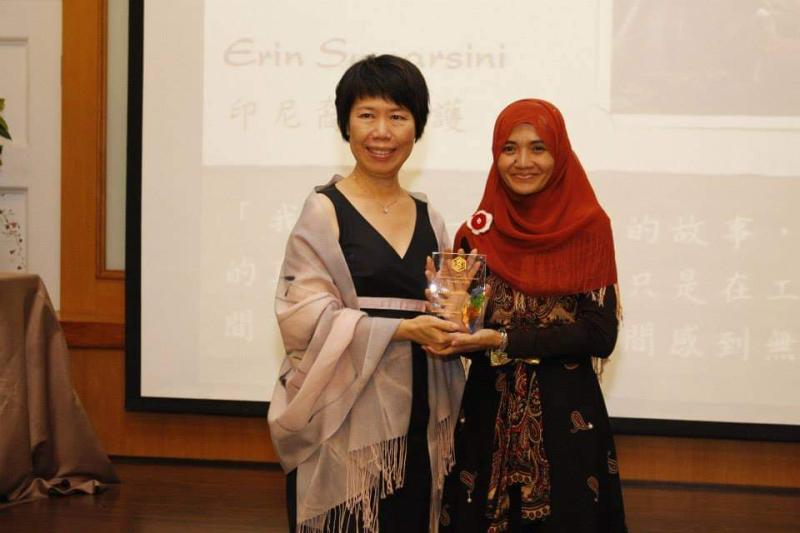 My submission, titled "Kisah Ye Feng dan Carlos" ("The Story of Ye Feng and Carlos") won a Merit Award in the competition, and I was thrilled. At first, I did not mention to my employer that I had participated in the TLAM. It was only when the organisers of the TLAM came to my employer's house to request permission for me to attend the award ceremony that they found out about my achievement. My employer was extremely proud of me and even helped me dress up for the ceremony. Winning the award changed the way my employer viewed my work, and they showed appreciation by allowing me to take time off for the award video shoot and other events.
Upon completing my three-year contract in Taiwan, I decided to permanently return to Indonesia. I had the opportunity to meet with a publisher who agreed to publish my writing in the form of a novel. It is amazing to think that what began as a simple hobby has led me to become an author, all thanks to the TLAM that opened up a new avenue for me. In 2015, after returning to my village, I sent a short story titled "Lelaki Pemberani di Stasiun Jiangzicui" ("A Brave Man at Jiangzicui Station") to compete in the 2015 TLAM competition, and it received another Merit Award. I flew to Taiwan in 2015 to receive the award, and TLAM supported my trip.
Drawing from my experiences and the support I received from the reading and writing communities in Taiwan, I founded a small library in my village called Gerakan Masyarakat Sadar Baca dan Sastra (GEMAS), or the Society Movement for Literacy Awareness. I realised that being proficient in writing and reading helped change people's perceptions of us. So, supporting the education of women and the young generation via reading and literature is one of my goals in opening this library. Reading makes us free.